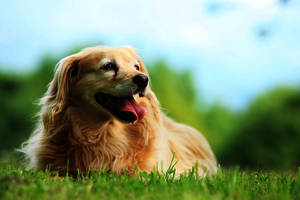 Dog Breed: We breed dogs from the family of retrievers and have specialized in Labradors. Each year, we only offer puppies from a litter for sale, so: no mass breeding! You can make your future pet companion or family dog ​​to know and choose the puppy's age. We teach you the right way to deal with the dog and assist you with the education, even after the transfer of the animal to you. Retrievers are distinguished by their friendly nature, their curiosity and ability to learn. You are outgoing and love movement of water. These various positive features make the Retriever an ideal family dog if you begrudge them plenty of exercise. They are also successfully used as hunting dogs, guide dogs, therapy dogs, rescue dogs and drug sniffing dogs.
Labradors

Labradors are originally from the Canadian east coast and have been used as a hunting and retrievers . A Labrador is on average 57 cm high and weighs 25-35 kg depending on size . His coat is short and dense (double - coated) . Labradors come in three coat colors : black , chocolate brown or yellow. A good socialization - in the first months of life by the breeder , then the buyer - is very important. Thus, the Labrador is becoming a loyal and adaptable companion.

Flat Coated

Retriever Flat Coated Retriever originated from a cross between Newfoundland and Irish setters . Around the turn of the century they were the favorite dog of the English gamekeeper , but were then superseded by other retrievers . They grow to 62 cm tall and 37 kg. The coat is dense and fitting, ( " flat-coated "). Flat Coated Retriever comes in two coat colors : black and buff . The beautiful , happy breed is today as a hunting dog back into fashion. Their popularity will surely grow . Even in the rearing , care is taken which puppy the best the preconditions has either a family dog ​​to become a guide dog . In each dog , there are several lines , for example, the working line , the show line and the - power line are the three most common . Following these lines, the dogs are matched individual to humans.